Actually It's Not About Us…  It's About You.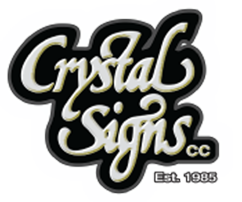 We could go on about how Crystal Signs has been in business in the Gauteng area for over 25 years and developed a long standing clientele. We could tell you that we offer a wide selection of signage products and services, utilizing our state of the art equipment to help you get the best signage available for your business.
We could also tell you how our sign design and manufacturing service will have your ideas and requests transformed into functional signage promptly and efficiently.
But really all you need to know is that we will take care of you and your project; from the first call through to installation, so that you can focus on what you do best….your business.
Crystal Signs can access sign products from across South Africa, giving you Gauteng's widest selection of signs, displays and retail point of purchase products. In addition we can hand craft a sign just for you, including business signs and commercial signs of all kinds. Great designs, the best materials and a price to meet every budget.
Crystal Signs is your solution to quality made signs and graphics in the Gauteng area.
Call us Today on 011-823.1822 or Click Here for all of your signmaking requirements in the Gauteng area.